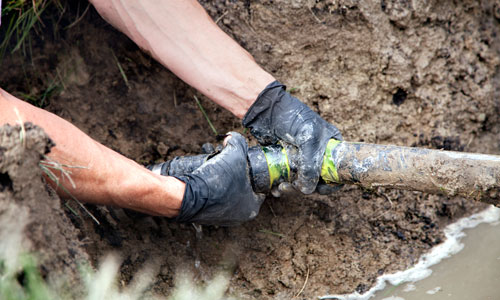 At this time of year, many buyers are staying indoors and surfing websites for homes with attractive style, fresh upgrades and open floor plans. When investing in any property, these and many other practical and structural considerations are huge factors in making a smart purchase.

For Bostonians as well as many city- and town-dwellers, a city or town sewer system is assumed to provide wastewater disposal system for the home. However, many suburban and country homes must rely on private septic systems (or even cesspools). These are regulated in Massachusetts through the DEP (Department of Environmental Protection) in order to preserve our water resources and natural environment. The laws surrounding the proper installation, use and maintenance of these systems are known as Title 5 codes in Massachusetts.

Local board of health (BOH) inspectors oversee the construction and repair of private septic systems and are the lynchpin in the Title 5 approval process. It's best to know as much as you can about this important topic whether you're the seller, buyer, or real estate agent, because it may determine whether a sale goes through or the mortgage is approved.

MLS Septic System Statuses
With regards to the MLS (multiple listing service), the Title 5 statuses are:

Pass – Your system is good to go, and the lender will need a copy of the passing report as part of the loan underwriting process.
Conditional pass – There's a problem with the system; a repair is necessary for the system to pass. Sometimes the problem is with the D-box (distribution box) which needs repair or replacement. The cost of a D-box replacement, including labor, may be around $500. There can be other reasons for a conditional pass which don't involve replacing the entire system.
Buyer's responsibility – Testing is the buyer's responsibility. Afterward, the system could pass, fail, or result in a conditional pass. The buyer schedules and pays for Title 5 testing, along with any other inspections if their offer is accepted. The average cost for Title 5 testing for a single-family residential property is anywhere from around $500 to over $1,000; pricing generally includes pumping out the tank, which is a necessary part of Title 5 testing.
Not done – Seller hasn't gotten around to Title 5 testing yet, so status is undetermined.
Fail – Of course, nobody likes this word! The property cannot be purchased with a traditional mortgage (such as a conventional or FHA loan) if the system has failed Title 5 testing. Typical types of failures include issues resulting from lack of regular pumping, systems which are now too close to the water table due to changes in DEP regulations, ingrown tree roots, or a combination thereof.
What are my options if the septic system fails?
Seller's options

If you're the seller, although the expense is great — generally tens of thousands of dollars — you will likely want to replace the private septic system prior to marketing the property. Marketing a property with a passing Title 5 should lead to a much quicker and less complicated sale than using a "wait and see" approach. Not to mention it's good to get the distraction of the construction mess, inspections and document recording out of the way when you're planning your move. A passing Title 5 report is good for two years.

There's a Massachusetts tax credit available for repair or replacement of a failed septic system for Massachusetts residential property owners. A maximum credit of $1,500 per year may be taken over four years, up to a total credit of $6,000.

Buyer's options

Perhaps an FHA 203k loan or other construction loan should be considered. These loans, however, may come with a higher interest rate than conventional loan products. Recently quoted rates for a 30-year fixed-rate construction loan was 5.5 percent.

You may be able to obtain a conventional loan if the seller can put funds for the repair or replacement in an escrow holdback account. Funds for this generally need to be 1.5 times the estimated cost. Not all lenders offer escrow holdbacks, and if they do, they may only allow them seasonally during winter months.

If you're able to pay cold, hard cash for the property, a failed septic system still needs to be repaired or replaced within two years but is often still usable, depending on the type of failure. Be advised: The system will be unusable for a part of the day that the sewage pipe from the home is connected to the new septic tank (or tanks).

It's best to research Title 5 prior to selling or buying a home. For more information, one good resource is the state's own consumer fact sheet for septic system repairs and inspections. You can also contact your local board of health, such as the Nashoba BOH which serves several Metro West towns.